Tattoos have found a widespread love for their uniqueness and portrayal of an individual's personality. Tattoo lovers worldwide flock over tattoo stores to get pierced and look forward to a fulfilling image that complements their requirements. And, the right tattoo machine can help a tattoo artist reveal his/her true potential.
However, with so many brands to choose from, picking the right one can be difficult, especially for beginners. Some of them may not live up to their reputation.
Although having the correct machine is a good idea, tattooing anyone should only be done by well-trained ones. So, are you in the market for a new weapon to add to your collection? We've put up a list of the best equipment based on recommendations from professional artists all over the world.
How to Evaluate a Tattoo Machine Brand?
Besides looking at certain features that make any tattoo machine a good buy in the market, certain characteristics in a brand make it a popular and renowned one.
Researching on the brand value can also help you finalize a tattoo machine of your choice.
The two techniques here can help you analyze whether or not a tattoo brand is worth considering.
Product & Customer Review
Before we buy any product online or directly, most of us never fail to look at customer reviews.
It might be an old trick, but it is the best trick until now as you can get first-hand information on a brand's performance. Coming from users, the reviews speak a lot about the brand's offerings.
Still, there are chances that the reviews are paid and fake, and there is no way you can distinguish between a genuine and a fake review.
Some manufacturers payloads for positive reviews to build a strong reputation, and hence, you must always use your discretion before making a decision.
Rather than focusing on anger words and frustration, it is better to look for objective reviews that discuss a product's pros and cons.
Check out the brand's customer service department as a good machine without genuine customer support is not worthy of purchase.
Stay cautious of brands that boast 100% positive reviews as these are mostly paid reviews, and you should stay away from them as the machines are not durable or of good quality.
Product Range
The range of products available in a brand also speaks about the brand's quality. Beyond looking at a product's description (fancy words alone don't make the product a good buy), look for a good product selection brand.
A superb branding doesn't affirm a product's quality and performance. It is better to look at the tattoo machine brands' specifications to find out about their quality.
A product's warranty offering speaks about the machine's quality. In general, manufacturers offer a long warranty only when they are sure that the product will last long.
Else, products that succumb to easy wear and tear would ruin the manufacturer's expenses if they come with longer warranties.
A machine that comes with a lifetime warranty is an excellent choice as the company is confident about its materials, performance, and durability.
Top 17 Best Tattoo Machine Brands Review
Stigma Rotary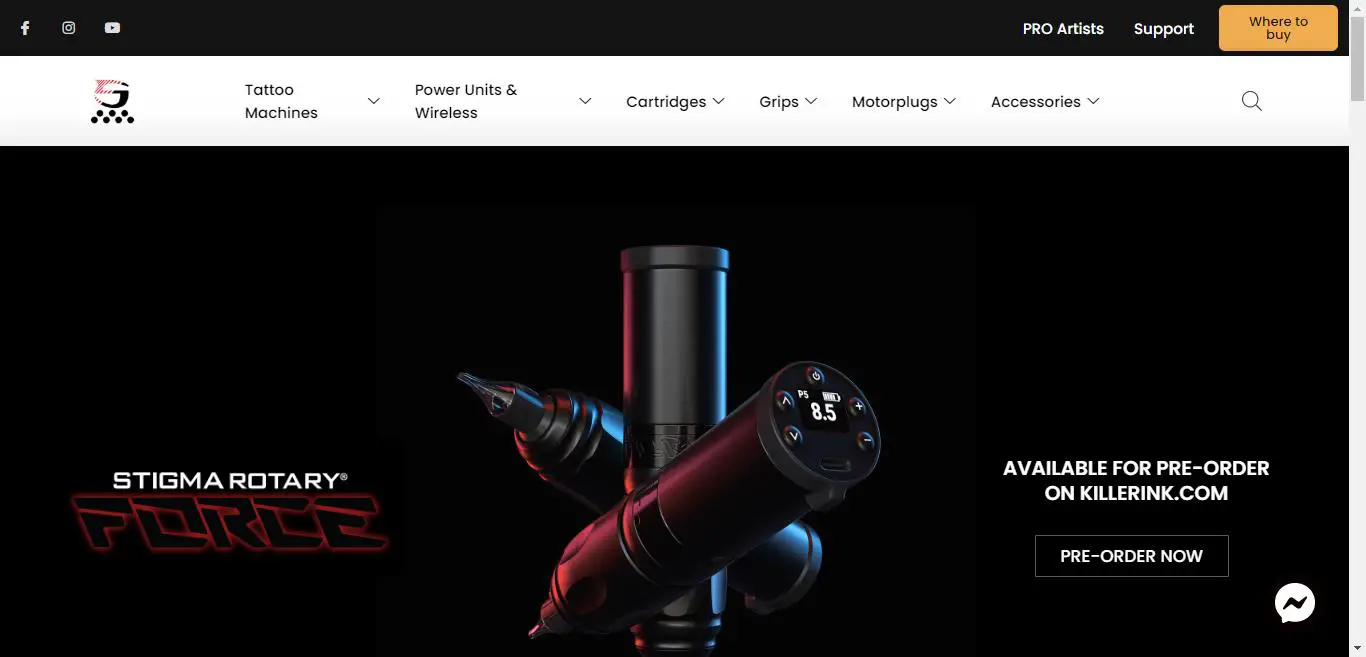 Stigma, the tattoo machine company, was founded by passionate tattoo artists who have more than two decades of experience running their tattoo studios.
The company has created a revolution in the tattoo machine world. The first generation equipment was carefully designed and built by Artemis Rosakis, the father of design and development at the company.
Artemis Rosakis received popularity for his out-of-the-box invention— you could make rapid adjustments within seconds on the 'give' for soft and hard-hitting on every rotary machine.
Such a discovery was applauded by all artists looking for a lightweight and noiseless machine for their tattoo-related work.
Those professionals who were fans of coil tattoo machines switched over to Stigma-Rotary machines due to its advanced technological improvements, unmatched precision, ergonomic design, and exemplary performance.
The machines are fitted with Swiss motors, while the rest are made in Germany and Europe.
The company employs only the best engineers, CNC experts, and tattooists to develop high-quality equipment. You could call Stigma a company where tattooists make machines for tattooists.
This brand's highlight is that the company is always open to improvements and doesn't hesitate to revamp their old models, releasing better machines with better performance.
Solong Tattoo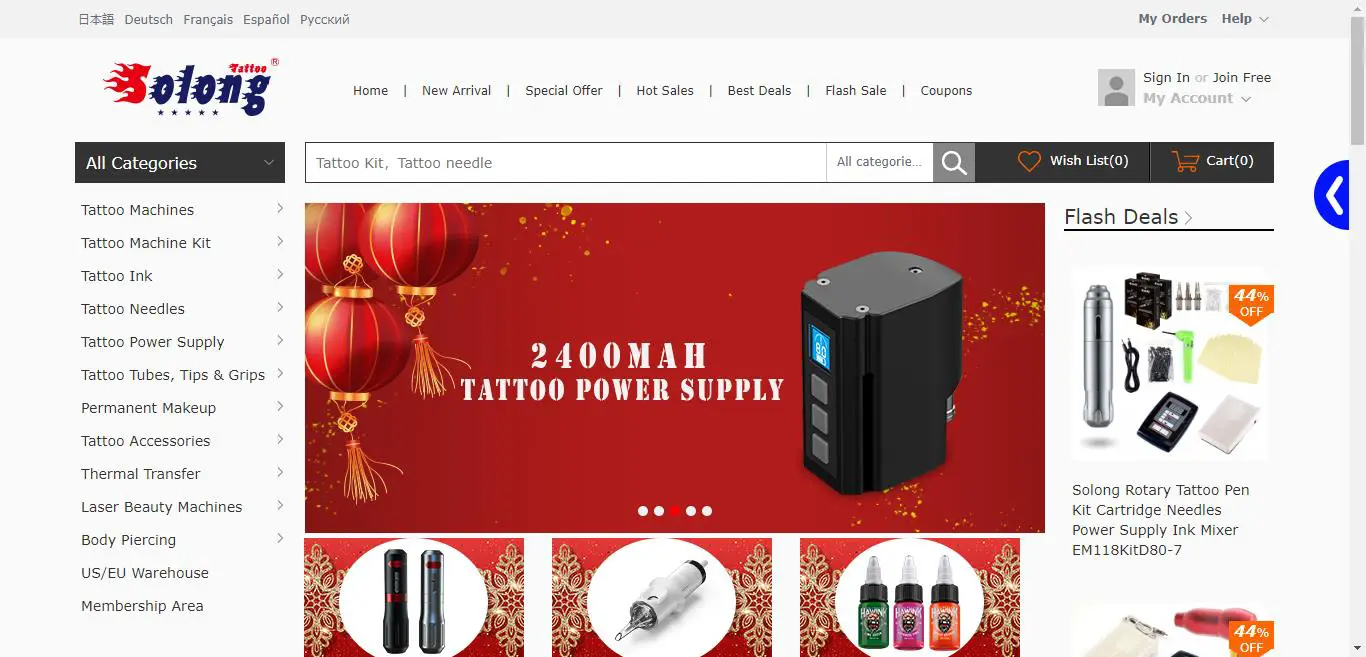 The company primarily works on manufacturing the most inexpensive tattoo machines for individuals but never has doubts regarding the quality of the machines.
Every piece of machinery is manufactured with care and precision at Solong, a company that offers good machines without any background in the tattoo art industry.
The company was established in 2008 in China and has gained name and fame among the tattoo and beauty salons, and are looking into expanding globally.
Believe it or not, Solong doesn't feel shy discussing its OEM and ODM items for companies around the world.
Solong also doesn't have inhibitions in telling the world about their versions of rotary tattoo machines in the same lines of 'Stigma' and 'Tornado.'
If you want one of the best dupes of the most popular brands in the market, don't hesitate to contact this manufacturer who makes wonderful replicas that perform as good as the originals.
The price tag is not all about a machine's quality, and if you are ready to explore this company's products, you would be surprised at how smooth and well the tattoo guns perform.
Solong is a great alternative to expensive tattoo machines that fit your requirements and budget.
Dragonfly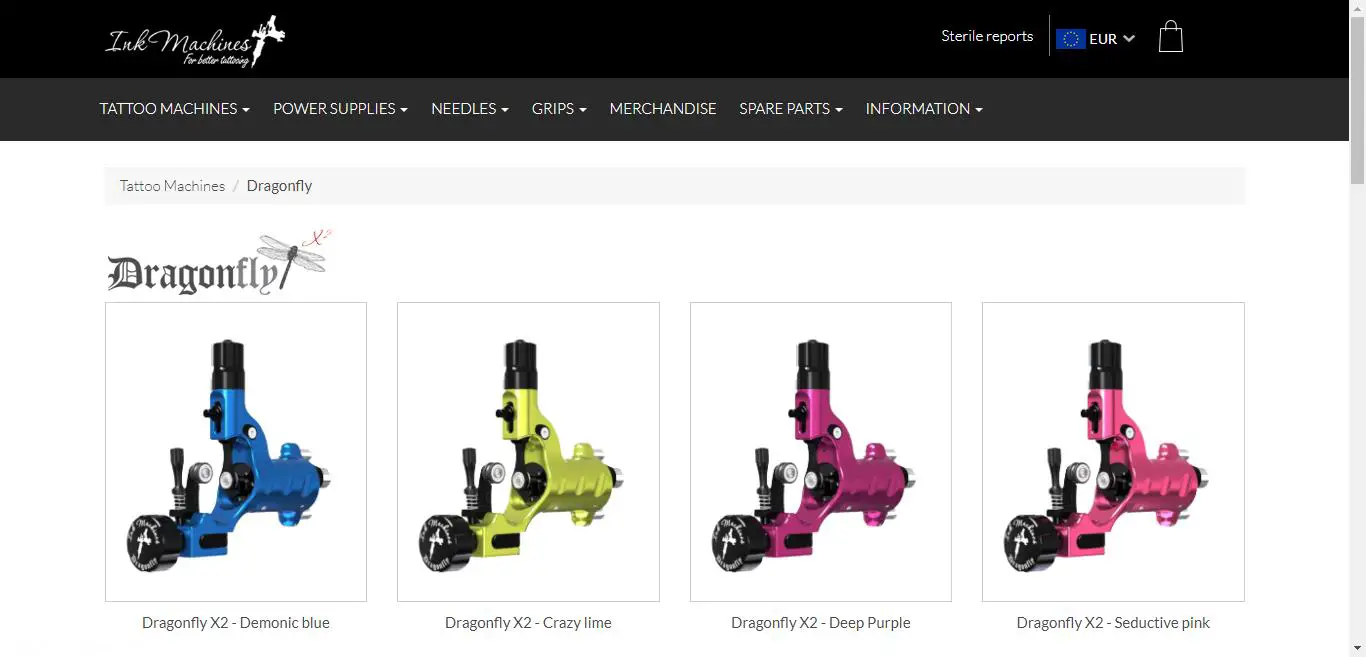 The story of Dragonfly machines is quite different. The brand was not an exclusive innovation but a popular range of Ink Rotary Machines that became popularly known as Dragonfly.
Let's dig deeper into Ink Machines—this is a Sweden-based brand specializing in manufacturing tattoo guns that undergo stringent testing.
All their products are crafted with care with inputs from professional tattoo artists, which is high-quality equipment available for users.
The Dragonfly is the trademark representation of the Ink Rotary Machines brand. The machines constructed here are done with utmost care to deliver the best to tattoo artists to express their talent completely and enjoy the work process.
The brand was designed such that the machines are powerful yet simple to handle.
The Dragonfly symbolizes lightweight nature, low vibration experience, and ergonomic design that guarantee optimal comfort and good results.
When tattoo machines globally use Swiss-made motors, the company doesn't fail to use Sweden's best motors that assure high-quality. The machines are constructed using aircraft-grade aluminum and hence, are durable, strong, and performance-oriented.
The only concern is that the machines are quite pricey, but their unmatched performance and power justify this.
Anchor Irons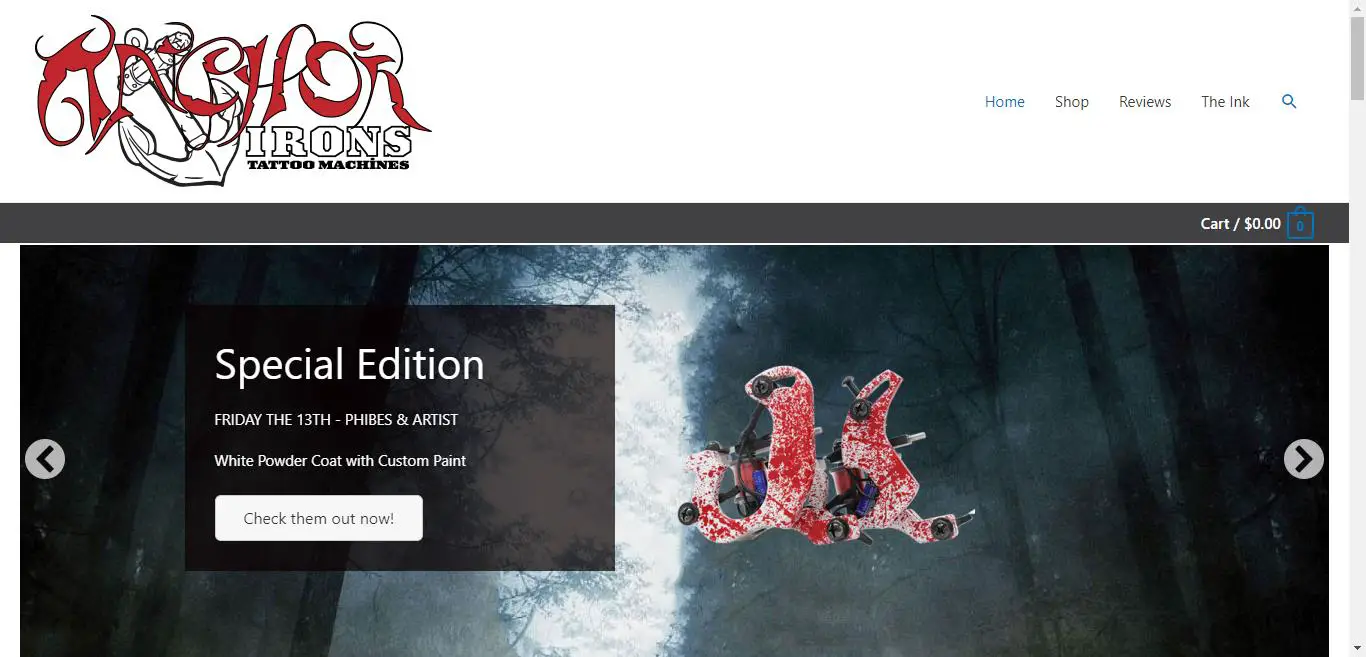 As the name suggests, the Anchor Iron brand exists as an anchor for your tattoo making ideologies as each of the machines are tuned professionally before shipping out of the unit.
The machines are hand-built in Connecticut, the U.S.A, where extreme caution is taken to design every one of them with a professional tattoo artist's needs in mind.
If you have decided to go with the coil tattoo machine, don't look beyond Anchor Irons among the tattoo machine types. The brand is synonymous with quality, strength, durability, and elegance.
Quality materials used to construct the machine ensure that they last for a lifetime. The sleek design looks enthralling, and the build and construction of Anchor Irons tattoo machines are strong.
Moreover, a 5-year guarantee offered by the company is a rarity in the tattoo machine world.
It is always better to get the expert opinion of a professional, but when a thorough professional is involved in the manufacturing process, the outcomes are amazing.
That's how Anchor Irons started sometime back—it was a joint venture by a businessman and a tattoo artist who met for a cup of coffee but ended up with this machine brand.
The company doesn't hesitate to incorporate improvements, and for this, they take the help of tattoo artists to bring in new design improvements and more.
Choose from the multiple tattoo machine models that are available from this manufacturer.
Bishop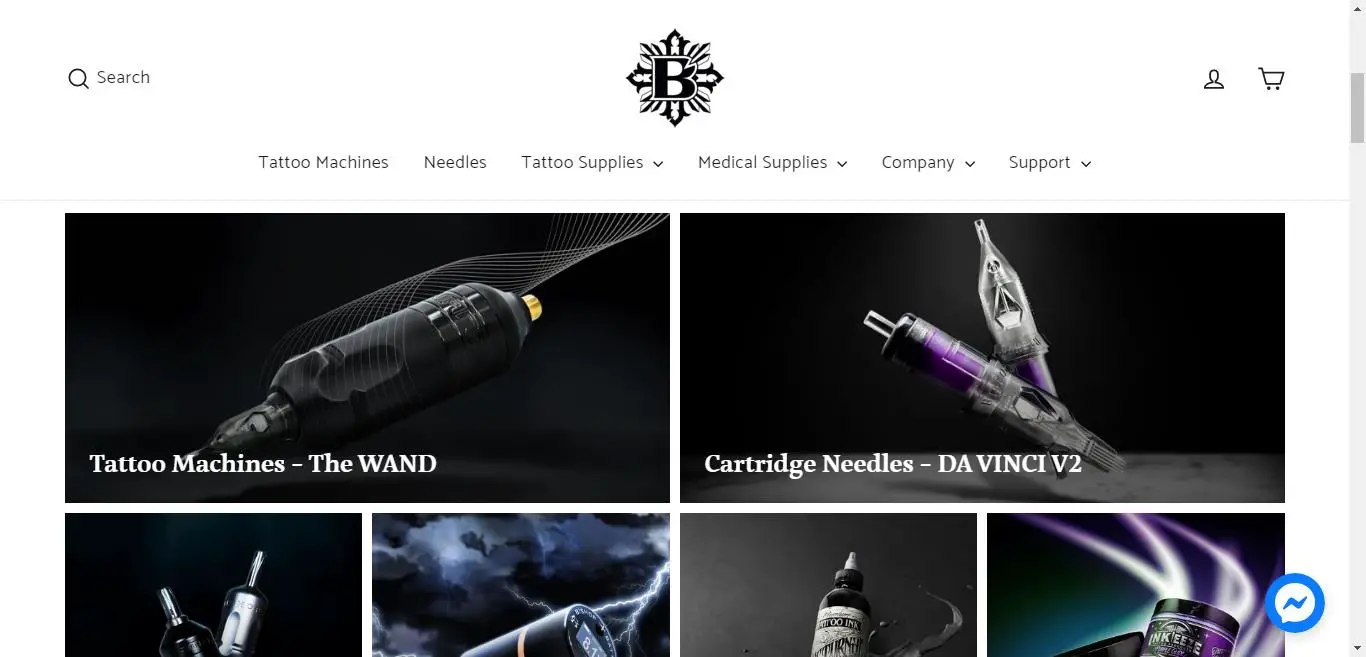 Any artist's abilities are fully revealed only when he/she has the right tools in hand. The Bishop tattoo machine founder knows this too well as he is a tattoo artist and a mechanical engineer who has more than 25 years of experience.
Franco Vescovi started Bishop more than a decade back in 2008 with the sole intention of developing the most advanced machines to support artists outperform themselves by bringing out their maximum potential.
The company uses the Swiss Faulhaber motor and custom windings based on the machine's functionality. Every machine has a 1-year warranty during which any problems are fixed in-house by the repair department.
The company assured that only the highest-quality materials are procured globally and used to manufacture the machine—aircraft aluminum, German bearings, Japanese medical-grade polymer plastic, and Swiss motor.
Finally, the product is beautifully put together by a rock-solid team of American engineers who create magic with every piece.
Every tattoo bar is hand-assembled and tuned personally to match the company's standard before being shipped out. The company sells all relevant products such as needles and other necessary tattoo supplies essential for any artist.
As the machines are the brainchild of a tattoo artist, there is no doubt that he has come up with an amazing end product that's easy, durable, and precise to use.
Borg Design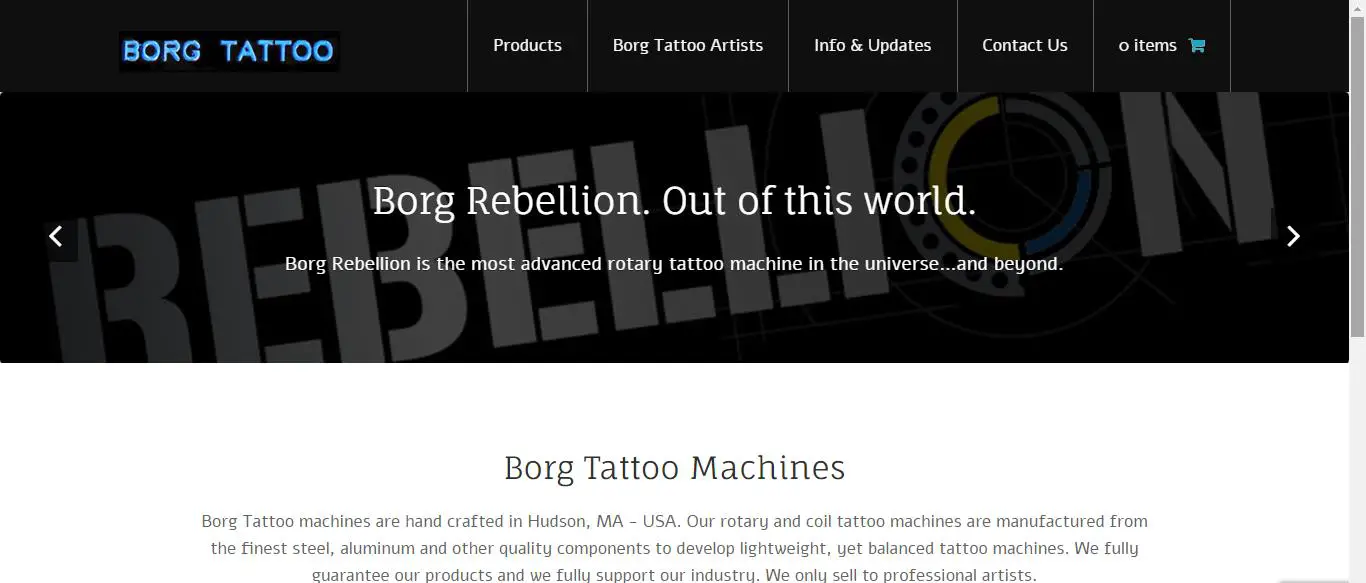 Some brands cater only to the best, and Borg Design is such a brand. You can get hold of any of the Borg Design tattoo machines only if you are a professional artist in the tattoo industry.
Every piece of machine is hand-crafted in the company's headquarters in Massachusetts, U.S.A. Choose between Rotary and Coil machine depending on your needs as the company offers both the models.
Don't worry about the quality, which should be evident from the fact that Borg Design products are available only to professionals!
The machine is constructed using aircraft aluminum and steel. The motor included guarantees topmost quality. The guillotine tube clamp design ensures a better grip of the machine while doing intricate images.
The machines operate smoothly without the slightest hint of vibration or noise that reveals that it is in use.
The company has done its best in constructing a lightweight machine that's well-balanced in every aspect, helping artists overcome the fatigue that arises due to prolonged use.
Surprisingly, the company offers a lifetime warranty on their products that talks about their durable build and solid construction.
Moreover, the products are tested repeatedly, abused as much as possible, and shipped out only after they are perfect. Borg uses the CNC technology to assure maximum tolerance and bet on the quality of their machines.
Cheyenne Tattoo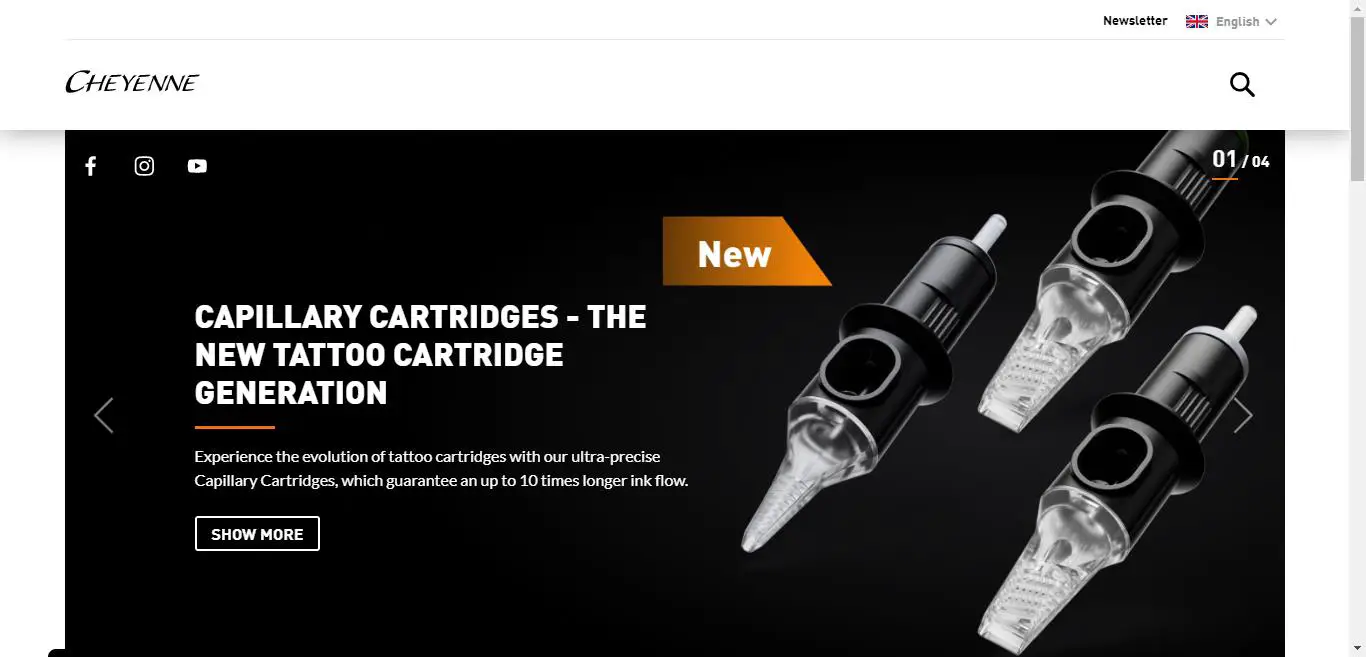 Here is a brand, Cheyenne, that revolutionized the tattoo industry and made people feel safer with their invention of single-use cartridges for rotary machines.
It is an amazing gesture by the manufacturer which lured more people into trying tattoo art as such single-use cartridges ooze of safety and hygiene.
The company collaborates with the European Commission to enhance the safety of the tattoo paints and regulate tattoo colors.
Still, Cheyenne complies with the highest medical standards in manufacturing its machines and relevant products that talk about its strong footing in the tattoo world.
It isn't wrong to say that the brand is a trendsetter in the industry and has attained iconic status. The company is in this tattoo machine manufacturing business since 2007, and each of the machines is produced in Berlin with the proud 'Made in Germany' tag.
Different tattoo machines are produced from the house of Cheyenne: tattoo machines designed as pens that are handy to hold and extremely popular to all kinds of tattoo works, the HAWK machines that attained worldwide popularity for minimum vibrations and lightweight nature compared to a tattoo machine enabling superb precision, and the SOL series machines that have high-quality BLDC motors and are well-balanced.
Cheyenne machines are versatile, durable, reliable, and intuitive, making them an instant hit among tattoo artists.
CTPS Saveria
Again, here is a tattoo machine that was the idea of a popular tattoo artist named Rick Saveria, who started making authentic machines some four decades back.
CTPS Saveria is an Argentina-based company specializing in hand-crafted machines, each of which takes more than 8 hours to attain perfection.
After the strenuous building process, all that remains for you is to take it straight out of the box and use it immediately.
You can be assured of topmost quality with all of CTPS Saveria products as they come with superb coils, power protection, high-quality materials used for construction, and above all, are the design of an expert tattoo artist.
The machines are fit for professional use, require low maintenance, runs on low voltage, and provide better results.
There are several different rotary tattoo machines and five different coil tattoo machines such as micro liners, regular liners, shaders, painters, and micro painters available from this company.
Remember the makers of the side-by-side machine popularly called the Toro-Loca? Yes, it was from the house of CTPS Saveria, who are premium tattoo machine manufacturers not just in Argentina but in the whole of South America.
Dragonhawk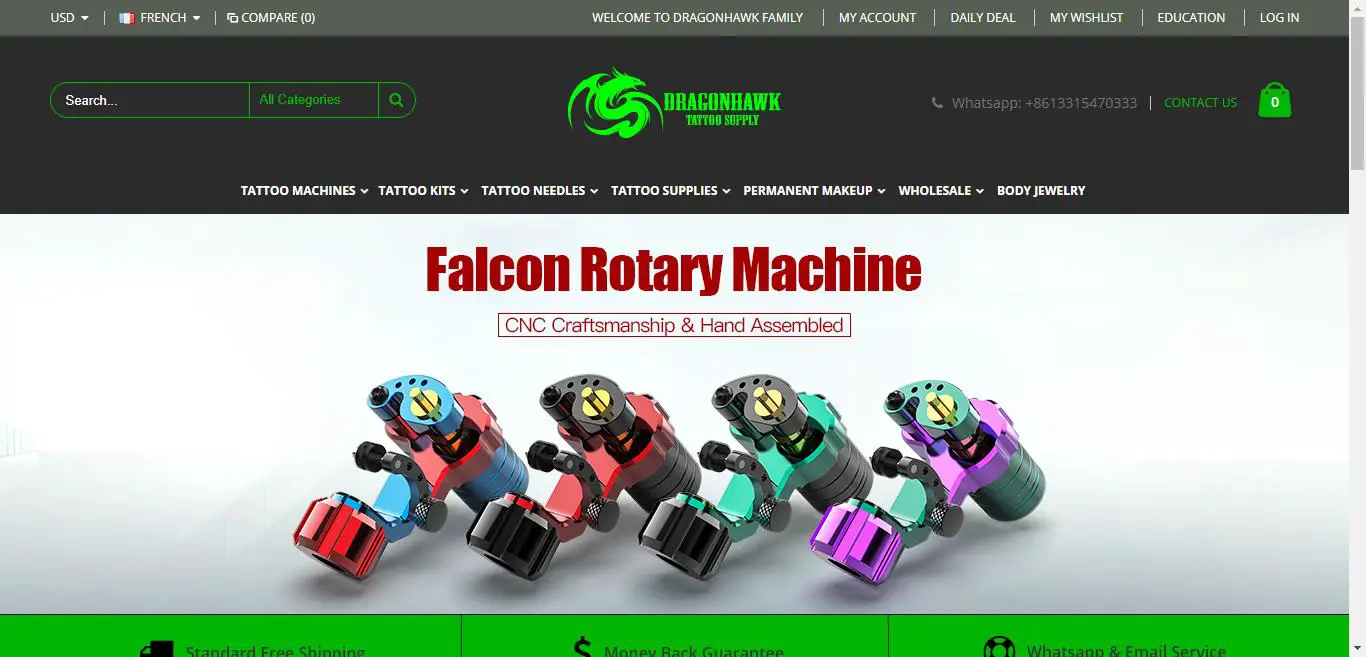 Founded in 2001 and registered in 2004, Dragonhawk is a tattoo company created by two professional tattooists in Hong Kong.
The company specializes in making rotary and coil tattoo machines for professionals and beginner tattoo artists who wish to etch a mark for themselves in the tattoo industry.
Firstly, the tattoo machines made by Dragonhawk are compatible with various tattoo accessories such as needles and tubes that can be procured from the market.
The machines are versatile. The assembling and disassembling process is straightforward, and the parts used are durable as high-quality materials such as strong steel are used to make the machine.
Dragonhawk tattoo machines reveal a strong fashion statement as they allow artists to work in style. The mode of operation is easy, making it simple for beginner tattoo artists to try their hands at tattoo images for longer.
The Dragonhawk products highlight that they are extremely affordable and inexpensive, catering to a wide range of audiences. Besides, you get a 100% money-back guarantee assurance that makes their products even more appealing to buy.
EGO Tattoo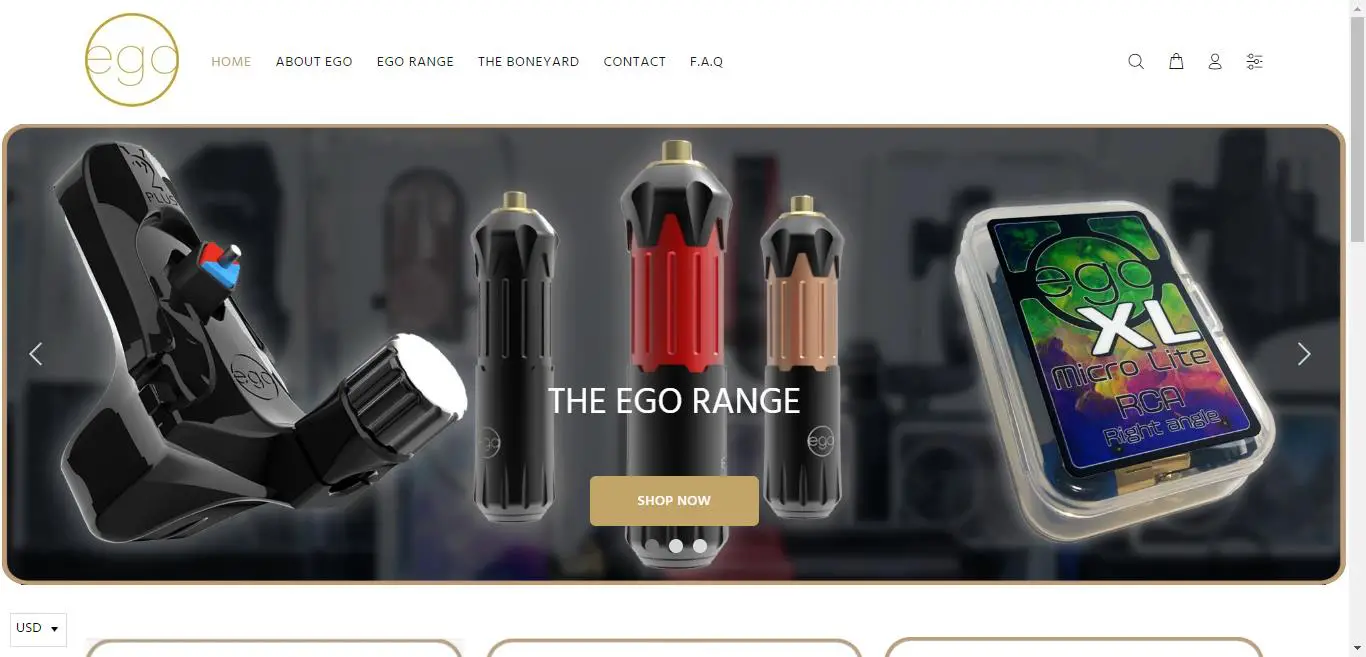 What happens when a gaming wizard tries his hands on tattooing? That's the success story behind Bez, the founder of EGO Tattoo in the year 2012.
Better functionality and working are guaranteed when any piece of equipment is made by an individual who has prior knowledge or wants to overcome some disadvantages that are already existing.
That's how Bez came up with the lightweight, well-balanced, and sophisticated tattoo machine that helped him overcome the rheumatic conditions. Ego tattoo machines revolve around the concept of affordability and are lightweight.
Bez designed the unique power triangle system where the triangles are placed on a rotary machine. Still, they could be treated as both a front and back spring system in a coil machine.
This system's highlight is that you can swap various colored rubber triangles to use any of your rotary machines for lining or shading purposes.
Though the products initially gained positive reviews, their impact on the environment suggested that the company develop better models.
Hence, EGO tattoo started to use recycled plastic and premium metal materials while retaining their core ergonomic design and unique working principle.
Every piece of the EGO tattoo machine is assembled in the United Kingdom and offers a 12-month warranty on the product.
FK Irons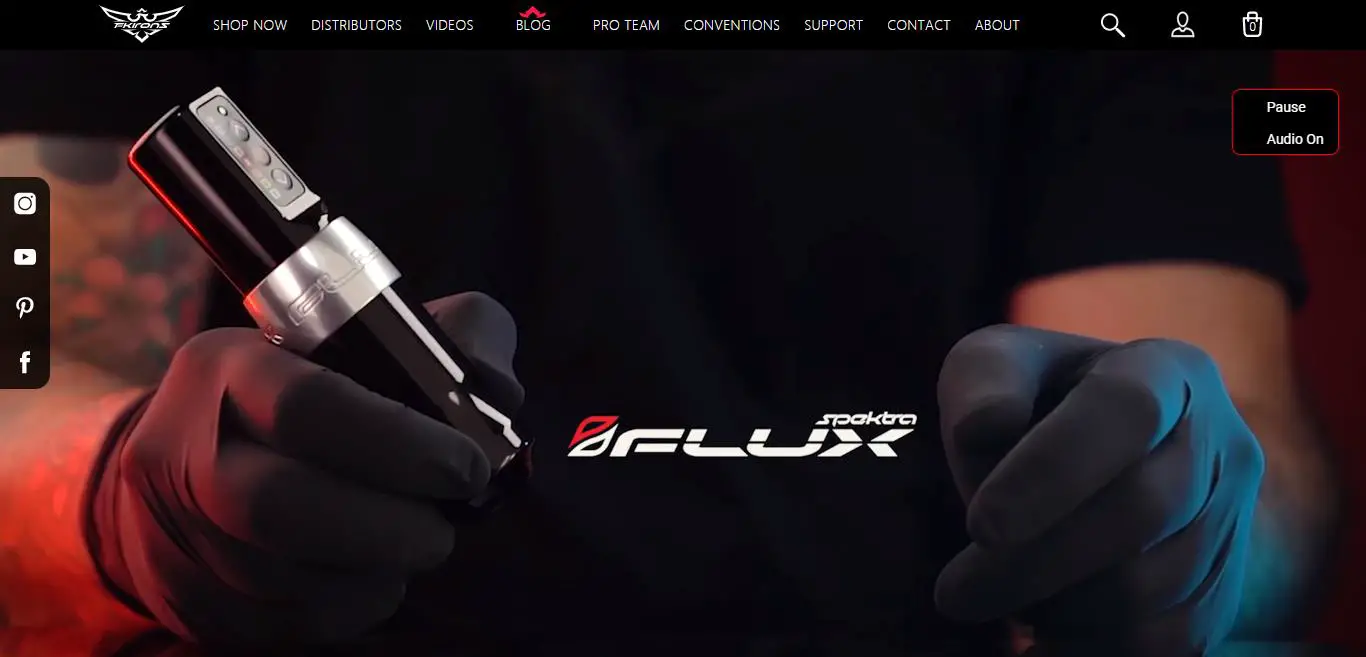 Standing for Fallen Kings, FK Irons was founded in 2007 by Gaston Siciliano, a prominent tattoo artist, and a design engineer.
The artist came up with an innovative tattoo machine that met all his requirements—the coil tattoo machine vibrated much less than other coil variations, created less noise than coil tattoo machines that are known for their loud noise, and was comfortable to hold and use.
All of FK Iron's tattoo machines are well-known for their ergonomic grip. The machine's body is made of high-grade aluminum that guarantees durability and requires minimum maintenance that makes it highly popular.
Hence, it became no surprise that FK Iron's machines grew in popularity, and the demand grew rapidly among the founder's friends and other professional artists globally.
The tattoo machines give the artists complete independence to unleash their maximum potential as they are lightweight, easy to hold, and can be maneuvred easily. The company manufactures top-quality products that come with the highest engineering precision and incorporate top designs.
It is no wonder that individuals buy the company's machines across the world either from the company's official website or distributors.
The company collaborates with the Hope Vs Cancer Foundation is an organization that fights against pediatric cancer.
HM Tattoo Machines
What if your love for tattoos made you invent the tattoo machine on your own? That's the story behind HM Tattoo Machines.
The company was found by Roman Tattoo Magic, whose association and inclination towards tattoos started right from his tender age of 13 when he was introduced to the Tattoo World.
Born in the USA, Roman moved to Argentina, where he started exploring the tattoo equipment that he could acquire and started on an apprenticeship.
Though he opened a tattoo studio in the year 1996, gradually, Roman spent more and more time exploring the types of machinery. Finally, in 2008, HM Tattoo Machines was born to manufacture high-quality equipment in Europe.
There are various tattoo machine models available from this manufacturer, all of which are made of high-quality materials and boast a sleek and elegant finish.
Don't forget to buy your preferred machine from the company if you are serious about establishing your tattooing industry's proficiency.
Inkjecta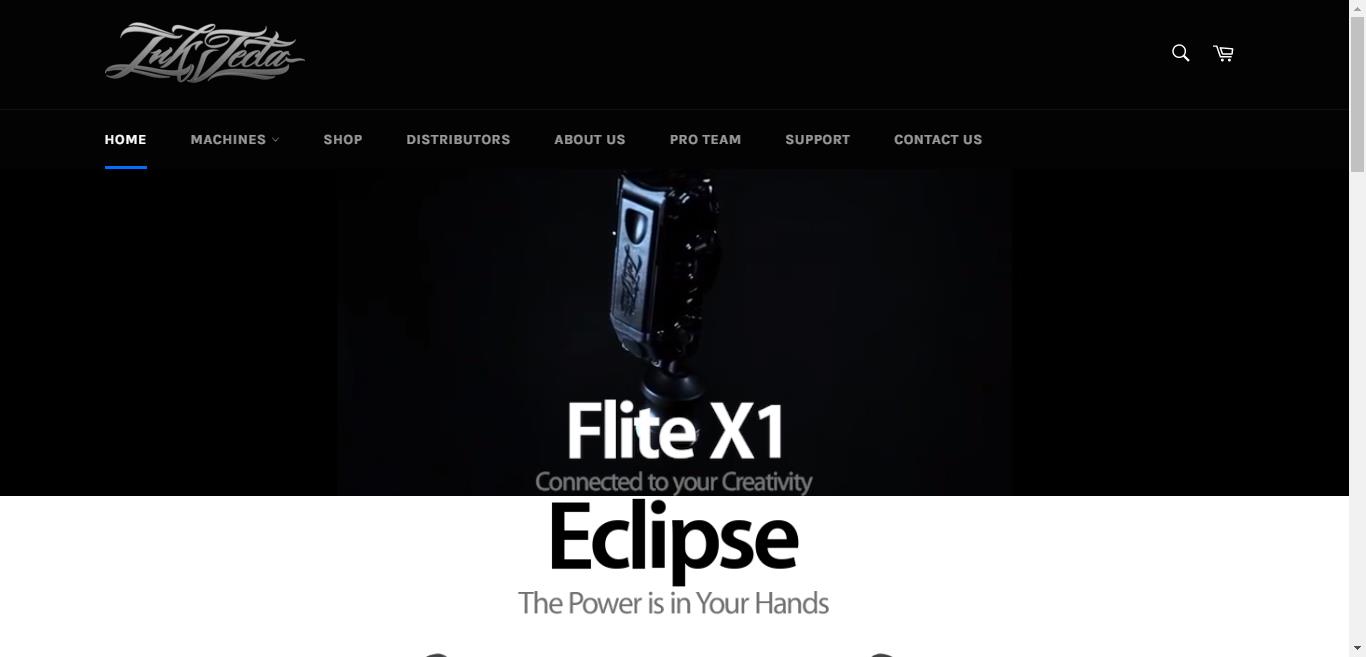 Each of us loves our tattoo machines to have certain features and provisioning. What if one brand promises to fulfill them all?
Yes, Inkjecta is a brand loved by all as the company is keen on only manufacturing tattoo machines that tattoo artists would love to use. That's how customer service should be.
We take up hobbies out of passion, and for some, this passion becomes their profession. That's what happened in the lives of Byron and Chris, who started making tattoo machines as a hobby, but in due course, it became their source of bread and butter.
Inkjecta is the tireless efforts of these two individuals who built their brand and made a name for themselves using sheer innovative designs and machine technology. Both of them have their studio set up in Australia, where every piece of machinery is built.
Inkjecta ensures that all products are hand-built and tested for top quality by the best workers in tattooing. The founders have more than five decades of tattooing experience.
Hence, without a doubt, they have clearly understood the pulse of tattooists, which has made Inkjecta an instant hit among tattoo professionals.
Kwadron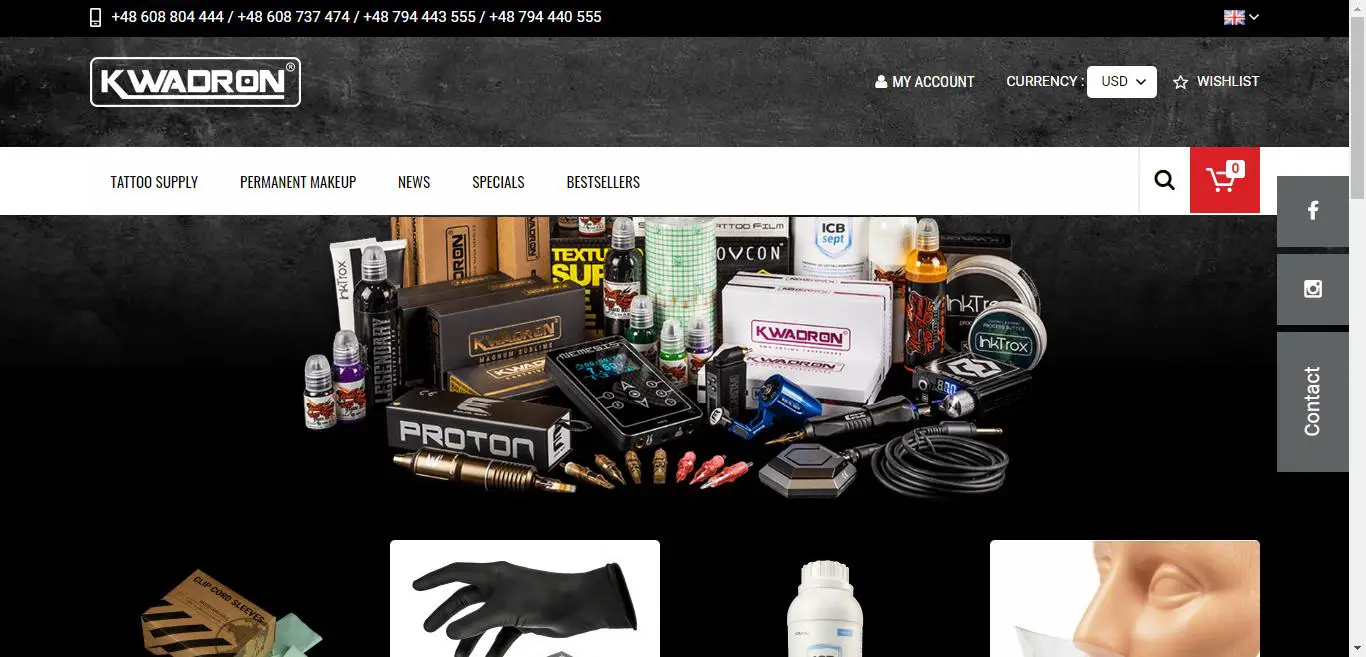 Established more than a decade ago, Kwadron is a Poland-based company that takes pride in meeting European Union regulations whose policies are sometimes more rigid than those imposed in the USA.
Kwadron is a one-stop solution for all your tattooing needs—they supply everything right from tattoo machines, inks, cartridge needles, and tattoo sets to power supplies, grips, tips, and other accessories needed for your tattoo venture.
The brand is in its developing stage and is open to improvements. They are constantly trying to excel in the tattoo machine manufacturing segment using modern production and storage techniques.
This manufacturer's highlight is that they supply high-quality products to tattoo saloons and distributors worldwide whose business is based on reliability and customer service.
The company accepts orders by email, phone, or online platforms and is efficient in distributing them as quickly as possible.
Lauro Paolini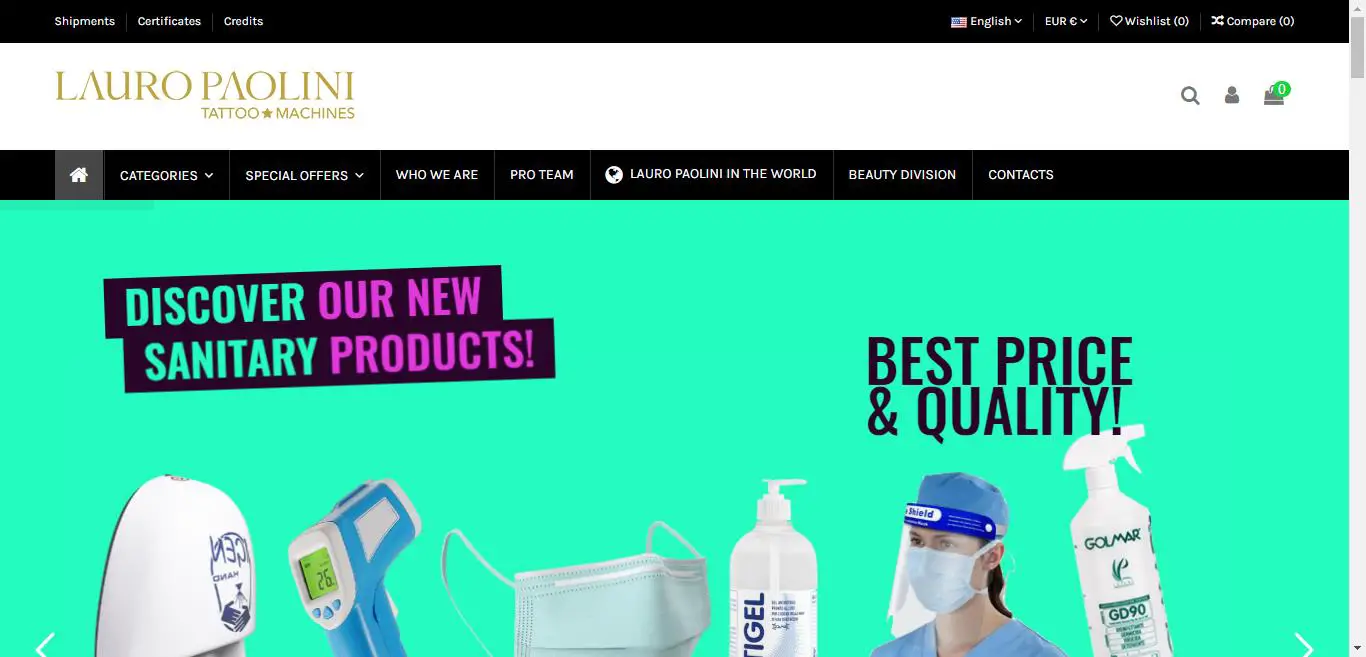 Standing true to the proverb that 'Failures are the stepping stones to success,' the Lauro Paolini tattoo manufacturing company's start was not a smooth one.
Lauro Paolini, the tattoo artist, was forced to shut his tattoo studio as he did not have a beautician qualification. Still, to come to his hurdles, the artist diverted his energy into building tattoo machines.
Having prior knowledge about tattoo machines and wanting to assemble a high-quality product, the tattooist made his first machine in a garage using sheet metal.
A feather to his cap is making use of a CNC machine for building the frames of a machine.
This way, the team of professionals at the machine production unit guarantees the best quality, construction, performance, and efficiency in each of their products.
The products are a great asset to all—you could be a budding tattoo artist or a professional—the machines help reveal your best skills and shine as an innovative tattooist in the market.
It's more than two decades, but the company excels in the market given its high manufacturing standards, attention to fine details, and satisfying its user base's needs.
Sabre Tattoo Supplies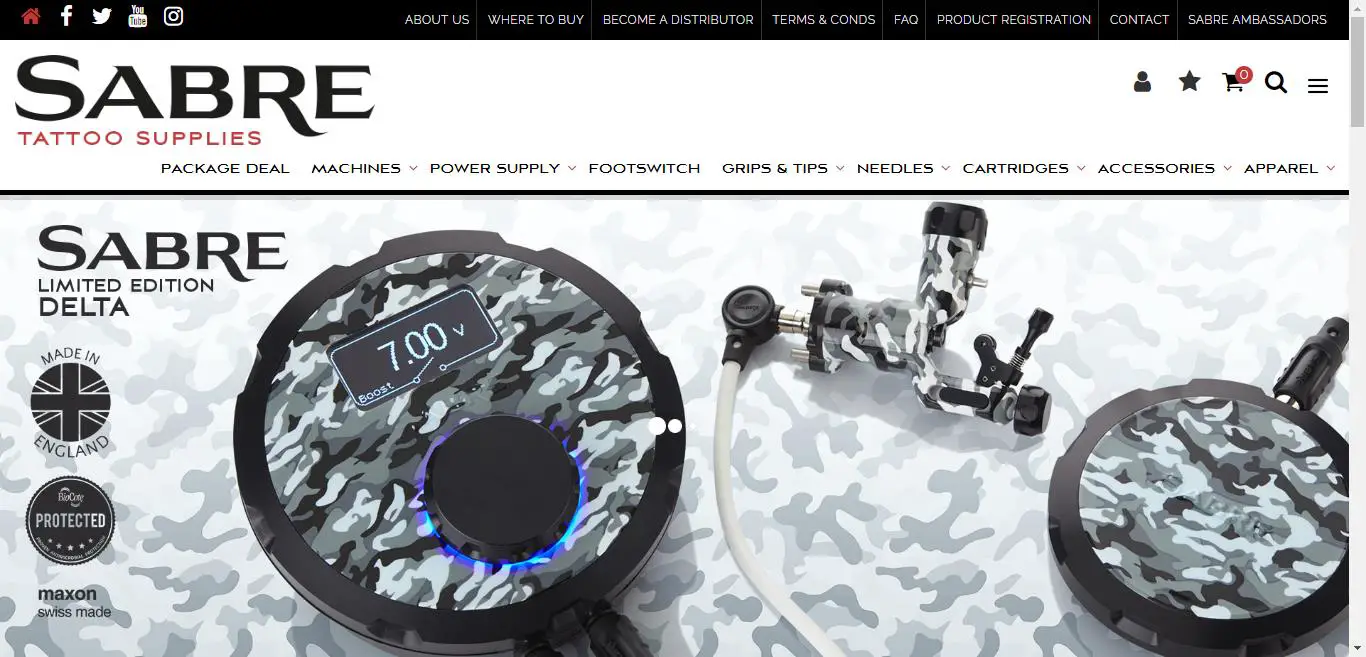 It is highly commendable to excel in a field but to sketch the path of innovation in any field is an exemplary act. Sabre has proved itself beyond doubt in this regard as they were the first to incorporate antimicrobial technology.
Named Biocote took every precaution to install the highest hygiene practices to a complete range of products using this technology.
Tattoo art is valued for its innovation, but individuals also look at it with apprehension about safety. Sabre has broken this myth and has established the highest safety standards in all their tattoo machines.
There are different models available from this manufacturer, each of which shines for its features. One-touch adjustment feature, Biocote, and clean wipe technology are an instant hit.
All the products are designed, manufactured, and assembled in the U.K. and shipped to people worldwide.
Besides the patented antimicrobial technology, the machines' versatile nature, hardcore testing, and minimum noise generation are some of the highlight features of this brand.
Vlad Blad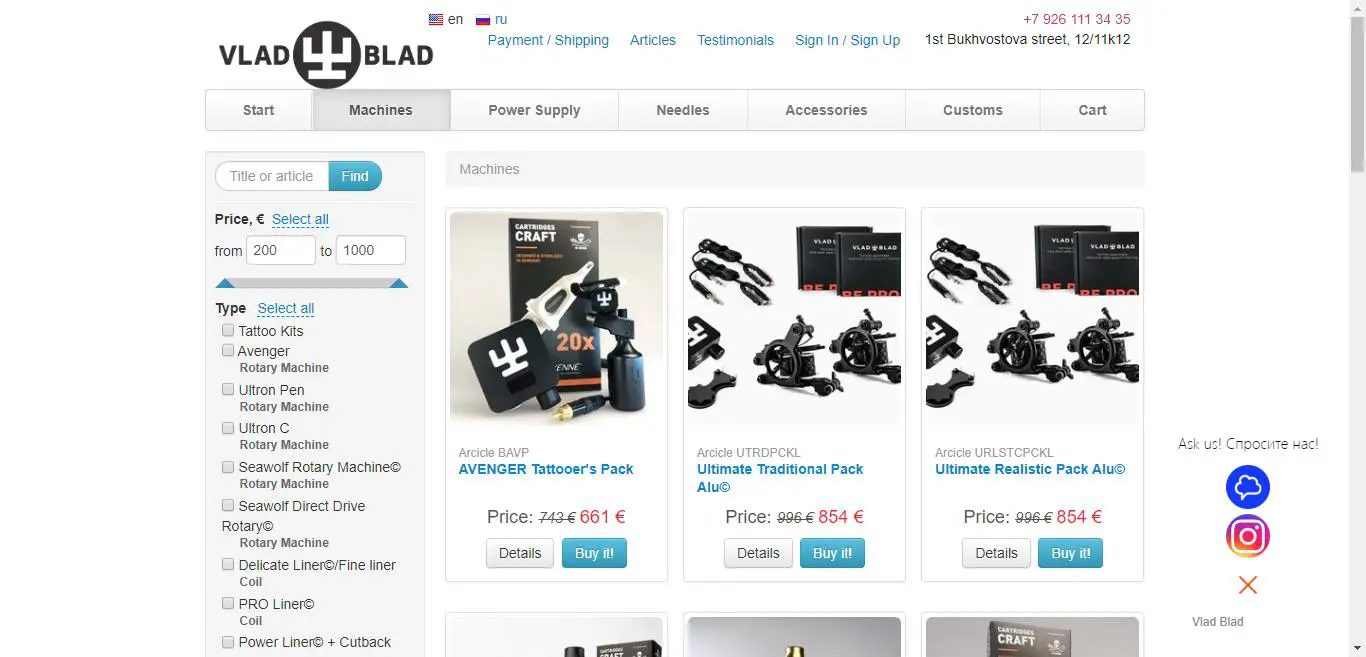 Kudos to Vlad Blad for taking up tattoo art in Russia, a country where tattoos were considered taboo for a long. The tattoo artist began working in the 1990s and gave a new dimension to tattoo art, revealing it as an art form.
Vlad Blad made a tough decision to stop tattoo art after 13 successful years and decided to start his tattoo machine company, the Vlad Blad Iron Company, in the year 2010.
The company had only 2-3 people initially but slowly expanded, catering to people outside Russia.
The company specializes in making tattoo machines for your preferred style and hence, are used by famous professional tattooists worldwide—this speaks about the company's reliability and unmatched performance.
Additionally, Vlad Blad recognizes your requirements and respects your need for customization. So, you can place an order for your preferred tattoo machine design.
It could be anything from having a design of your choicest guitar, or you could place an order for making it from pure gold.
The company manufactures rotary and coil tattoo machines, handpicking tools, footswitches, cables, power supplies, and accessories.
I don't have any second guesses on the company's quality as it offers a lifetime warranty on all their tattoo products, which includes the internal components.
The brand is synonymous with performance, durability, reliability, and fabulous design, and the machines are well-received by artists globally.
How to Choose a Tattoo Machine Brand?
A tattoo machine is a tool through which a tattoo artist can create exemplary tattoo designs and unleash his/her full potential.
We now know that the market is filled with many tattoo machine brands, but the main concern now is how we choose our preferred one? The key features that make any tattoo machine a good buy in the market are:
Expert background
Any piece of a machine needs a detailed design and features to make it a sought-after one. But, how do we know what are the features that make any machine an exceptional one?
It depends on your requirements, and who else would better understand your requirements as a tattoo artist than a tattoo artist himself?
Ask any expert, and he would tell you that any good tattoo brand is one that a tattoo artist makes. It's mainly because the artist knows what we want, and hence, any machine designed by a professional tattooist is a fine choice.
We already saw above that most brands were created by tattoo artists and have achieved worldwide fame for their performance and quality.
Price
The machine's price has always been a factor to consider when we are on a budget. But, remember that the price of the product doesn't justify its performance.
An expensive machine doesn't guarantee ultimate performance and durability. Likewise, affordable ones should never hold secondary preferences. So, don't go for a tattoo machine just because it is expensive.
Still, the pricing speaks of any brand reveals a lot about the machines manufactured by them.
Some of the most-expensive brands offer high-quality, durable products, develop innovative designs that are loved by all, and ensure sturdy construction.
Hence, you can be sure that the machines are synonymous with a commendable performance.
Reputation
The reputation of a brand depends on the quality of the materials manufactured by the company. Hence, with better customer reviews and positive responses, a brand builds a strong reputation.
Developing tattoo companies build their reputation with high-quality tattoo guns.
A brand's accessories also reveal much about its quality, and it is better to research this domain rather than looking only at the tattoo machines.
Look for reviews on the brand that you wish to buy, search on discussion forums and community boards on their machine's performance, and do as much research as you can to collect details about the machine.
This way, you can get an idea of the best-performing brands and go on making your decisions.